| | |
| --- | --- |
| We guarantee the high quality and accuracy by developing an original and efficient Jig, and are proud of the top share of the dryer production in Japan to support comfortable car life. | |
We efficiently utilize our technology of Jig production cultivated in the Trial Production division for the assembling process. In the automotive industry, our main client, we are engaged in a water-hose assembling and a dryer manufacturing. Thus, Nagasaka's unique technologies invisibly contribute to core component.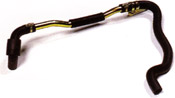 It is an important service for us to assemble rubber, resin, and metal parts. For example, assembling water-hose for a car air-conditioner is one of our main missions.

In a case of car, for example, it always comes with arrangement of assembling required due to the minor changes on the existing car model as well as a new model, and the number of those changes usually hits 250-300 kinds at each time.
We custom-develop the best Jig for assembling at each time based on the 3D data of the parts provided by a client.

In these days, a cycle of the new model development has become shorter, and the limited edition models are released more frequently in the automotive industry. Therefore, more flexible assembling technology is demanded to correspond. In order to maintain secure quality and high production efficiency, we provide our competent ability to advice and fully utilize our technology cultivated for a long time in our Trial Production division. Thus, we greatly contribute the proud Japanese automotive industry.


All capacitor (condenser) of a car has a desiccating agent "dryer" wrapped in a felt bag. A dryer absorbs moisture from a running air-conditioner. It is essential to have properly functioning dryer for a comfortable drive. Since an air-conditioner of a car is now standard, a dryer became the essential part of a car.

Under the theme of "Best Quality", we pursue both of quality and efficiency by introducing the cutting-edge automatic equipments such as an automatic packaging machine and an electronic automatic scale. Especially, the technology of bag-making with Supersonic Welder is notable. Making automobile parts must be considered the durability because they are always under the severe condition such as perpetual vibration and temperature fluctuation. These equipments enabled us to greatly improve quality and efficiency.

Currently, we are producing 400,000 dryers a month. We are proud of the top share of the dryer production in Japan.